Are you having a baby? If so, you may be interested in painting a crib for their room. Unfortunately, not all paints are considered "baby safe." While this is true, there are some non-toxic, baby-friendly options to consider.
A natural or water-based paint that is labeled as "zero-VOC" and non-toxic are considered safe. However, most commercial paints contain VOCs – volatile organic compounds. These are things you must avoid when it comes to your baby, toddler, or child.
While there is a lot of information online, it is not all based on fact. If you want a definitive answer on which paint is considered baby safe and what you should avoid for baby cribs and all other furniture, keep reading. Here you can find all the information you are searching for.
Selecting a baby safe paint for a crib, nursery and all other furniture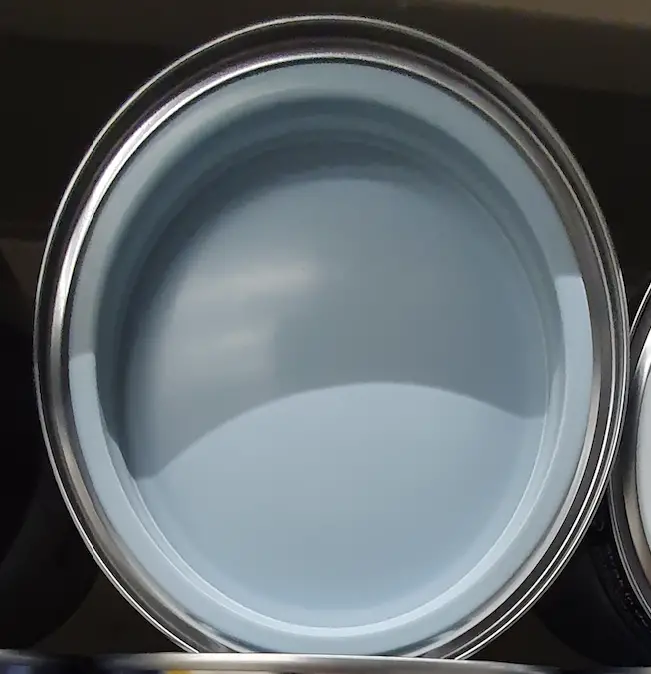 It is important to know what type of non-toxic, baby-friendly paint options are available. Keep reading to find out about the top options to consider.
Spray paint
The only type of spray paint that should be used for a baby, child, or toddler furniture or item is custom made. You cannot find it off-the-shelf. For example, Benjamin Moore offers the option to choose a color, choose Zero VOC or Low VOC, and have it added to a spray can. The cost is higher but well worth the investment for the convenience.
Water-based
In recent years, water-based paints have gained a reputation for being a greener and healthier alternative. However, some issues can increase allergies and asthma for children, so it should be avoided.
Low VOC or no VOC
There are several low and zero VOC paint options to choose from. You can choose from options like:
Sherwin Williams
Clare Paint
Green Planet Paints
Homestead House Paint
Valspar Simplicity
Lullaby Paints
These offer options that contain low or no VOCs, making them safe for use for babies and children.
Low VOC or no VOC chalk paint
Two of the top options for child-safe chalk paint include Annie Sloan and Amy Howard paint options.
Non-toxic stain
Earth Paint is an excellent option for a non-toxic stain. It offers a safe way to get a natural wood color for the crib or furniture in your baby's or child's room.
Pregnancy safe paint
The only paint that is safe to use while pregnant is paint labeled as low VOC or zero VOC. Usually, these are going to be latex paints that contain fewer VOCs. Even with this, it is important to ensure proper ventilation in the area that is being painted. Below are a list of paint types and paint brands that are considered to be pregnancy safe.
| | | |
| --- | --- | --- |
| Paint type or Paint Brands | Toxic / Non-Toxic | Washable / Wipeable |
| Benjamin Moore Custom Spray Paint | Non-Toxic if No or Low VOC is chosen | No |
| Real Milk Paint | Non-Toxic | Yes (with sealant applied) |
| Low to Zero VOC Paints | Non-Toxic | Maybe |
| Annie Sloan | Non-Toxic | Yes |
| Amy Howard | Non-Toxic | Yes |
| Earth Paint | Non-Toxic | Yes |
Baby safe paint – Where to buy it and the colors and brands available
If you are ready to purchase one of the baby safe, non-toxic paint options mentioned above, finding the right retailer is necessary. Two of the top retailers for finding these paints can be found here.
Home Depot
Home Depot offers a vast selection of quality, baby-safe, toddler safe, and child-safe paints to consider. There you can find top brands offered at affordable prices.
At Home Depot, you can find a huge selection of baby safe paints that are either rated low-VOCs or no-VOCs. Some of the top options include:
KILZ 2 All-purpose one-gallon primer and sealer for $16.98
BEHR five-gallon white acrylic primer and sealer for $69.00
ForceField FireGuard E-84 five-gallon intumescent primer for $330.88
You can also find options that fall in between these price points, and several color options to choose from.
Lowes
Lowes is another big-box retailer that offers several Low- and No-VOC paint products. Be sure to browse the selection of paints to find the option that best suits the project's needs.
If you decide to shop at Lowes, you can find eight baby-safe paints that range in price from $3.98 for Krylon COLORmaxx flat crystal clear spray paint up to $103 for Valspar tintable interior paint (five-gallon bucket). You can find price points between these two and tintable options, which means you can get the desired color for your baby's crib.
Boutique paint sellers
You can also purchase from a boutique paint seller, such as the manufacturers of Lullaby paint options. Browsing these may provide better options than what is offered by the big-box retailers.
For Lullaby paint, you can find options at stores like Ecos Paints and Bed Bath & Beyond. You can expect to pay between $30 and $40 per gallon for these paints. The exact cost depends on the retailer you purchase from. 
Tips on how to safely paint a baby crib, nursery and other children's furniture
Once you have decided it is time to paint your baby's crib or other nursery furniture, the first step is to find the right paint. Choose one of the options above to ensure no harm comes to you or your child.
Some general tips to help you find the right paint include finding options with low VOCs, completely non-toxic, and paints that do not contain lead.
When painting the crib, be sure to ventilate the space well, or paint outdoors, if that is an option. This is particularly important if you are pregnant. If you already have a baby or toddler avoid painting around them when possible.
As you can see from the information here, there are several factors to consider when choosing non-toxic, baby-safe paint for a crib or another piece of baby, toddler, or child furniture. If you are looking for the best paint for a baby crib, or nursery Annie Sloan is a great option. It provides all the safety features you are looking for in a paint to use in your child's room. 
FAQs
Is it safe to paint a crib?
It is safe to paint a crib if you use the right paint, stain, or varnish. Make sure to find options with low- or no-VOCs to ensure you have a non-toxic option.
Is Rust-Oleum spray paint safe for baby furniture?
Rust-Oleum paints are considered safe for use on furniture and toys because they are unleaded. Also, once the paint is completely cured, the solvents will all evaporate, which means they are no longer present in the coating, which means the paint is non-hazardous.
Is it safe to paint a crib and other baby or children's furniture with chalk paint?
It is safe to use chalk paint on furniture for babies and children, but it is best to wait four to six weeks to let the paint and the wax cure before the item is used. Also, pregnant women should never apply wax.
Can furniture paint also be used for painting toys?
It is best to find a "toy safe" paint for your children's toys in most situations. This will ensure it is completely safe.
Is acrylic paint safe for babies?
Even though some acrylic paints are labeled as "non-toxic" and considered safe, younger babies and toddlers should use other types of craft paints. This will ensure there is no potential issue or danger.