During summer, kids are always looking for new and exciting ways to entertain themselves. However, when their parents are low on funds, it can be a challenge to keep your kids entertained without breaking the bank. That's why we highly recommend you try the following activities on the list for free fun that the whole family can enjoy.
Water
Water is an excellent way to entertain kids in the summer. It's relaxing, refreshing and fun. Depending on where you live, there might be a lake, river or even an ocean nearby. If so, you can take your kids there to swim and cool off.
Garden hose
Water from a garden hose can be a great way to entertain the kids. Simply hook the hose up to a sprinkler and let your kids run through it. If you have a water slide you can put the sprinkler at the top of the slide for them to slide down or if you have a trampoline you can place it underneath.
If you have any super soakers in your garage you can fill these up and have a water gun fight. You can also fill up some water balloons for a water balloon fight if you have any around the house.
Paddle pool
A pool is not only good for cooling off, but it's also a fun way to play. They're also cheap, easy to set up and move and require minimal space and maintenance. Your kids will love having their very own little swimming hole right at home. They can play games like Marco Polo or feed the fish.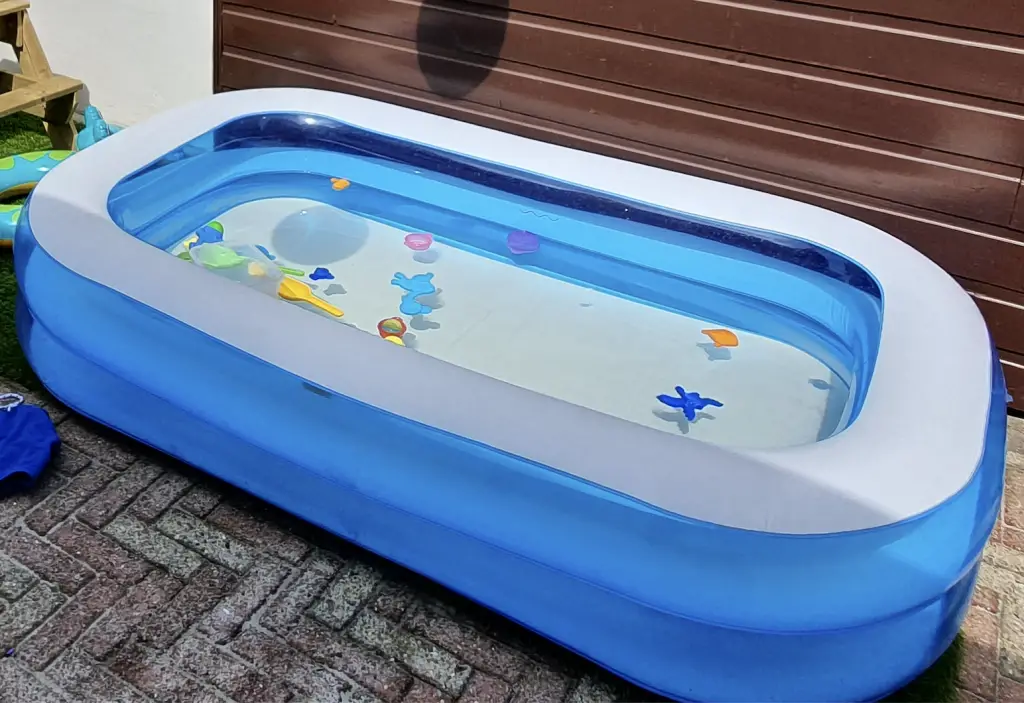 Park
If you're not lucky enough to live near a body of water, you can still have fun at your local pool. Parks also sometimes have shallow pools and various water sprinklers that the kids can play.
River
A river is a great place to go during the summer. You can also go fishing or have a picnic beside the river. If there are any slow shallow areas you could even dip your feet in the river. If you're kids are a bit older, you could go tubing down the river to enjoy a little downtime with them. You can even fill a cooler with your favourite drinks so you can stay hydrated while tubing – just don't forget to tie it to your tube!
Lake
If you live near a lake, your kids will love spending the day splashing around in the water. You can also go fishing, skip rocks along the lake or go floating. You can even try your hand at water skiing or wakeboarding if you have a boat.
Ocean
The ocean is the ultimate summer playground. You can make sand castles, look for seashells, take a look at the small pools by the rocks. You can go swimming or even snorkelling, supping or boating if you have any of these things.
Sand
Kids love to play in the sand and they can do so for hours if you let them. Here are some options for playing in sand:
Park
If you live near a park, you can take your kids to visit the local sandbox. Many parks have a sandbox for kids to play in and they also have plenty of places for kids to run around and play. This is a great way to combine physical activity and entertainment all in one fun activity.
DIY sandbox
If you have the space, having a sandbox at home is a great way to keep your kids entertained during this summer. It can be as easy as digging a hole, putting together four wooden planks, lining it with plastic, and filling it with sand.
Kinetic sand
Kinetic sand is a great way to keep kids entertained during the summer. Kinetic sand is non-toxic and when you touch it, it feels just like regular sand. However, kinetic sand is mouldable and can be manipulated into whatever shape you want. It's a great way to keep kids entertained for hours and you can even use it to help them learn to mould letters and numbers. It's also a way to enjoy sand without the mess that usually comes with it.
Nature
Nature is an excellent, free option for entertaining children. There are a number of things you can do in the forest, such as hiking and camping. You can also explore the wilderness, see animals, and go on a scavenger hunt. In addition, nature provides a peaceful environment that can be great for unwinding.
Forest
There are a lot of reasons why forest adventures can be great for kids, especially if they have a love of the outdoors. Forests are wonderful places for getting away from the chaos of everyday life and enjoying some quiet time.
Hiking
Hiking is a great way to get outdoors and enjoy nature, especially if you're traveling with children. You can hike through a local forest or national park and there are a lot of trails you can choose from. If you go hiking with kids, you'll find that they're a lot of fun for adults too.
Exploring
There are a lot of fun things to do in a forest besides hiking. Exploring is a great way to get outside with your kids and learn about the world around you. You can learn about animals, plants, critters and other natural wonders, and it can be a great way to bond with your child.
Walking
Kids love nature so another fun way to entertain them is to take them out for a walk in the nature. It's also a good option if you're kids are a bit too young for hiking. You can also go and pick wild flowers and teach them about different types of flowers. Another fun thing is to go and collect different types of rocks. You can show them how to make rock collections.
Camping
Camping is a wonderful way to spend time in the forest, and it's also a great way to teach children about nature and how to be self-sufficient. You can help them find plants, roast marshmallows on the fire and build forts and tents.
Home
There are plenty of fun and free outdoor activities you can do at or close to your home. These are listed below.
BBQ
BBQ is another great way to entertain kids. It's a chance for them to get to know and spend time with family and friends in their life. You can invite your friends and neighbours over for a good time and delicious food to be shared among everyone.
Stargazing
Star gazing is another great way to get in touch with nature. If you have a telescope at home you can see the different constellations and planets in the night sky. You can also find your local stars by using apps on your phone.
Sight-seeing
You can also take the kids to some of the local attractions. It's a good way for them to learn about different cultures. You and your child can go see free local famous landmarks, and you can learn about different parts of the world. Sight-seeing is a great way to get outdoors and learn something new
There are a lot of great ways to get outdoors with kids that don't cost much. It doesn't matter if you live in the city or the country, there's something for everyone. Whenever possible, take your children outdoors, and help them enjoy the country. As you're enjoying your own summer, take a moment to appreciate the sun and the great outdoors.
FAQs
What do I need to bring camping?
Camping is a fun way to get the family together for a weekend. Just make sure you're prepared. Bring water, food, blankets, pillow, tents, flashlights, first aid kit, medicine, books and games and anything else you need to survive.
How can I entertain my kids at the beach?

At the beach, there's no shortage of ways to keep the kids entertained. You can go swimming, body boarding, surfing, build sand castles, play in the sand, and more. It's also a great place to pack a picnic and spend the day.
How do you clean up sand after a day at the beach?
The easiest way to clean up sand is to scoop it into a bucket, and then shake out the excess sand. The remaining sand can be easily swept up or vacuumed.
What are some fun things to do while hiking with kids?
Hiking is a great way to get some exercise, and it's a great way to view the outdoors. Choose a trail and select some landmarks along the way. If there are any lakes you could even go swimming, fishing and or have a picnic.