Knowing what color shoes to wear with a red dress can be daunting! Accessories are like friends, you can't do without them. Maybe you are wondering what shoe color goes with your red Givenchy dress? Burgundy Manolos or a black dress shoe with red bottoms would be a perfect fit. 
We have the perfect shoe guide that can help you look like absolute magic no matter the season. Blair Waldorf would approve!
What color shoes go with a red dress?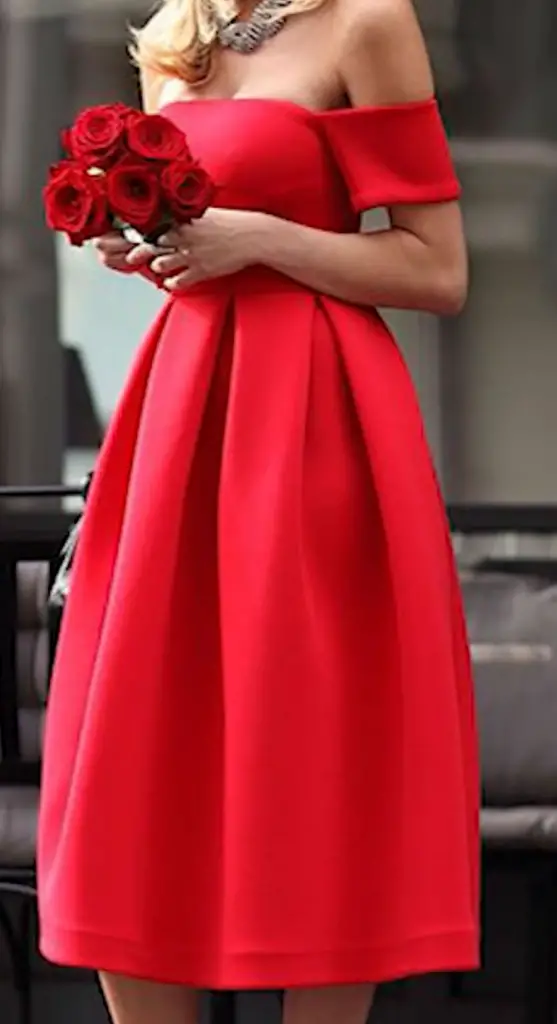 Red is a multifaceted color with different hues, tones, and tints. Keeping this in mind, here are some universal colored shoe options that look gorgeous with a red dress.
Black
Black is a classic color and the contrast of black and red makes an iconic statement. You simply cannot go wrong with this, especially if you pick a black dress shoe with a red bottom for evening occasions.
Brown
Brown is an earthy tone that pairs especially well with red hues like flame, vermillion, and coral red. These hues have an orange undertone that gives a lighter shade and creates a beautiful contrast with dark brown.
Nude, beige or tan
If you would like your red dress to be the center of attention, a skin-tone nude is a fan favorite! Skin tone aside, beige and tan shoes also look phenomenal when paired with a red dress.
White
White is a controversial color to pair with a red dress but most stylists agree that white compliments a red dress in summer. White shoes with a red dress look fresh, stylish, and give a nod to the pizzazz of summer.
Grey or silver
Grey is a great neutral color that balances a light red hue. Model Emily Ratajkowski has perfected the summer dress and sneakers vibe for a casual yet stylish look. A grey sneaker with a casual red dress is all the rage! A silver hue also matches any dress which is why they are a great alternative to grey. Silver heels can accentuate silver and diamond accessories.
Gold shoes
Golden Goddess comes to mind when rocking a red dress with a pair of golden heels or sandals. This combination goes well with a cocktail dress, prom dress, and any formal occasion. I mean what woman wouldn't want to accessorize her golden jewels with Yves Saint Laurent golden heels?
Black and red
Black shoes go with almost any color but paired with red this combination is a show stopper. Who wouldn't turn heads with a red number couples with black and red Jimmy Choo kitten heels?
Black and white
Some might argue that black, white, and red might be overdoing it but a pale red dress pairs exquisitely with black and white polka dots for a cute summer vibe. For a more bold look, try white shoes with black accents.
Red and green
A seasonal red and green shoes especially with a red gown can be festive and stylish. Sergio Rossi has the perfect multicolored red and green leather heel that just screams Christmas in Milan.
Blue
Julia Roberts pushed the envelope when she arrived at a premiere wearing a red dress with navy blue heels. Live on the wild side! Blue shoes are an unexpected mix-up but go great with red.
Leopard print
Leopard print shoes are a fun alternative to monotone monotony. Paired with a red khaki dress, this cute but fun number mixes ghetto fabulous with haute couture.
Red
This controversial style only works during a black-tie or red carpet event. Red lace shoes can also add a bit of old fashioned flair for a formal event. The wrong shoe color can make a beautiful red dress look frumpy. Sticking to these style guidelines will make your outfit look phenomenal.
What color shoes do not go with a red dress?
Having a killer red dress is only half the battle and picking the wrong color of shoes is committing fashion suicide. Here are some colors to steer clear from!
Purple
On their own red and purple are beautiful colors but together they just spell disaster. They look bad together because they are intense colors and tend to compete for attention.
Orange
On the color scale, red and orange are very close and look horrendous together. If you are pale, this color combination will make you look washed out.
Pink
Some stylists believe that red and pink are a match made in heaven while others believe these two cool tones go together like oil and water. A screaming crimson dress with neon pink shoes creates a Valentine's day monstrosity. But a pale pastel pink with a deep red cocktail dress will make you look like the belle of the ball. Choose wisely. 
What type of shoes go with a red dress?
The type of shoe is a sandal, heel or boot can also define the occassion. So lets take a closer look!
Heels
Gold stilettos pair marvelously with a red cocktail dress where a gold heel is preferred with a red gown or prom dress. The Yaro ankle strap sandal looks dazzling paired with a long red summer dress. The Yaro sandal is perfect for casual summer events and can be found on the Nordstrom online store.
Black boots
The classic red dress with black boots is a match made in heaven. Every woman should have a pair of designer black boots or pumps for any occasion. Alexander Wang's high heeled black boots are perfect for an evening where you want to look sophisticated and daring. Order your pair today and look edgy in your casual red evening dress.
Brown boots
Brown boots can also be worn with lighter shades of red to create contrast between the two colors. Try pairing brown combat boots with a red dress to acheive a more casual look or pair a red dress with brown leather boots for more formal occasions.
Wedges
Rose gold wedges go beautifully with a pastel red summer dress. Fancy rose gold wedges are available on shopstyle.com. There are many different styles to choose from.
Brown loafers
Some people think loafers are too androgynous but we disagree! They are a great comfortable fancy shoe option that can be office casual to formal everyday wear. A very cute Resur Cheetah face loafer spotted on eBay or Forever21 is the cutest thing ever! The golden cheetah with gold-tipped loafer comes in navy blue or black that would look amazing in the office or on a date!
Flats
Dressy flats instead of formal heels are a great way to go for a formal occasion. A polished embellished ballet flat with lace trimmings can be a perfect fit with a red cocktail dress. You can find lace ballet flats at nykaafashion.com. 
Picking the perfect shoes for a casual or formal event has finally been simplified! Follow the tips and tricks mentioned above to be the IT girl in your area. 
FAQ's
Should I go with red?
Choosing red for a function depends on your personal preferences and the event you are attending. Red dresses at funerals and weddings are a big NO, but for occasions like birthdays, dates, and black-tie events red is stunning.
What color shoes should I wear with a red cocktail dress? 
This would be an evening event so we suggest wearing rose gold or black shoes. Black high heels look amazing with a red cocktail dress. If you choose black heels, a crimson cocktail dress screams sexy and vivacious! 
What color shoes should I wear with a red prom dress?
For prom, we would suggest going with gold or silver heels so that you can match and accessorize your clutch and jewelry. For example, gold heels with gold jewelry and a gold clutch look elegant and timeless.
What color shoes should I wear with a red khaki dress?
Go bold or go home. Leopard print stilettos with a khaki dress mix ghetto fabulous with high fashion. On the plus side, stilettos make your legs go on for days!
What color shoes should I wear with a coral dress? 
Because coral is such a perky color, we suggest going with nude-colored shoes to call attention to the coral dress. Alternatively, you could pair your coral dress with brown shoes.
What kind of shoe should I wear with a short summer number?
Wear a white sneaker to imitate model Emily Ratajkowsi's style. Wearing sneakers and summer dresses is so in right now! It's chic, sleek, and its contemporary-vogue at its peak.
Are formal sandals acceptables for formal occasions with red dresses?
Absolutely! For a formal occasion with a red dress, try the Ava Mid-heel formal sandal from the Michael Kors collection.