Tires are some of the most important features of your car and having them installed can be an expensive affair. This handy guide will explain everything you need to know about the cost of adding a rim, mounting, and balancing.
How much does it cost to mount and balance tires?

How much it costs to mount and balance tires depends on your area. On average, it ranges from $15 to $45 per tire. It might cost a bit more depending on additional features like Road Force Balancing. Road Force Balancing is measuring the tire and wheel to make sure the tire is rolling smoothly under a car's weight. Other additional costs depend on your area and might include disposal fees, taxes, and shop handling fees.
Some companies like Wal-Mart offer cheaper installation prices for those that buy tires at their stores. Remember, the better the tire, the longer they last on the roads.
Cheapest places to get tires mounted and balanced
There are many companies to choose from that offer installation services that include mounting a tire on a rim, balancing, and general mounting. The cheapest companies to use are Wal-Mart, Costco, Sam's Club, and Sears while the cheapest garage to use is BJ's.
Tire mounting cost
If you're simply looking to see how much it will cost to mount a tire then take a look at the table below. It includes companies that cost the least to install tires e.g. Walmart.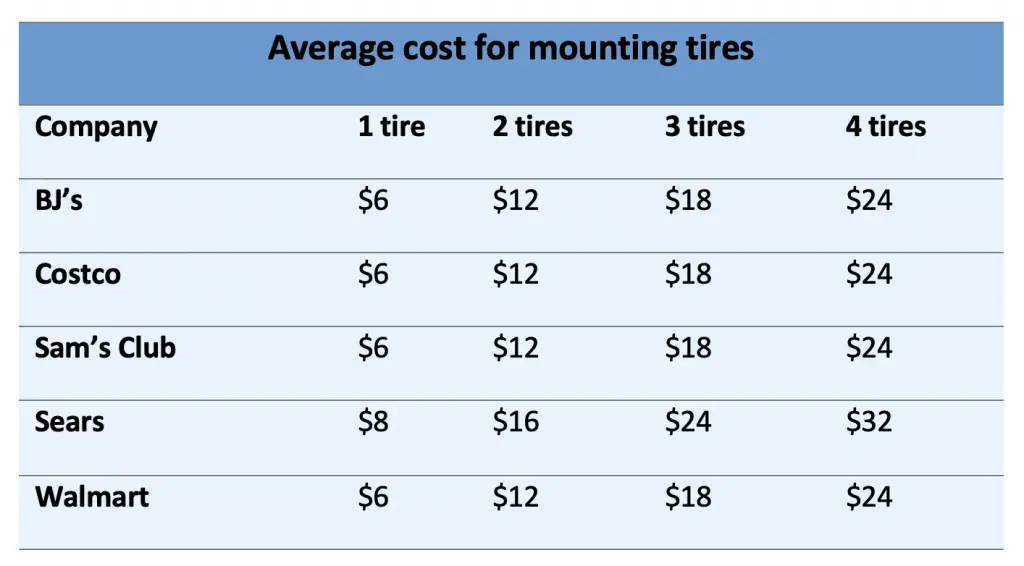 Bear in mind that tire mounting prices and installation costs vary based on geographical location and may be raised annually. There may also be additional fees like tire disposal and even a road hazard warranty, which might make the cost of installation go up. 
Tire balance cost
If you're visiting the garage to just balance your tires or make sure all the wheels weigh the same, then you're sure to get a good deal with one of the companies listed below: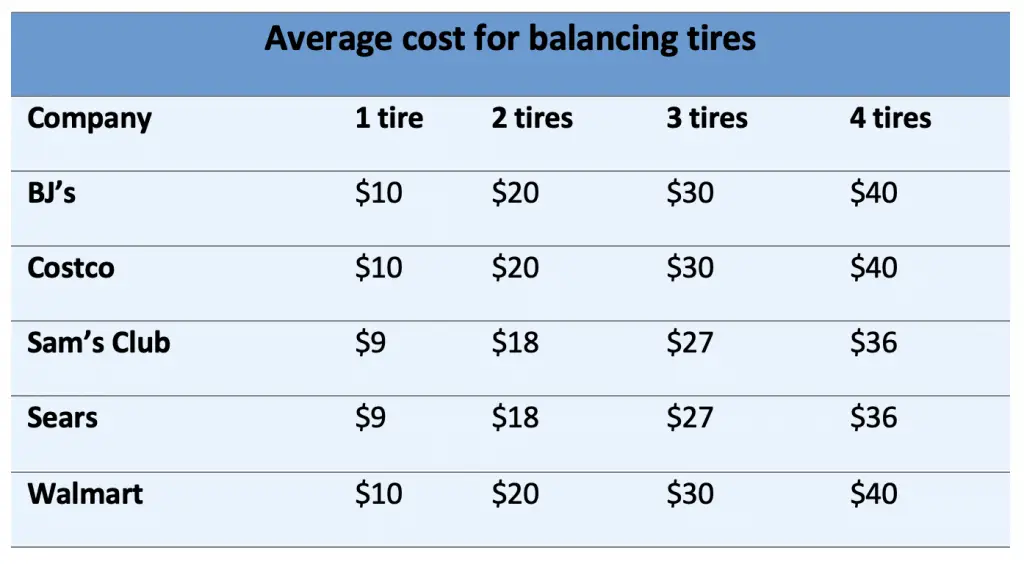 Sam's Club and Sears are two of the cheapest places to get your tires balanced. However, keep in mind these costs can vary between states and increase over time.
Cost to put tires on rims
The cost to install a tire onto a rim usually goes hand – in – hand with a full tire installation. Nevertheless, the average rim installation cost is summarized below: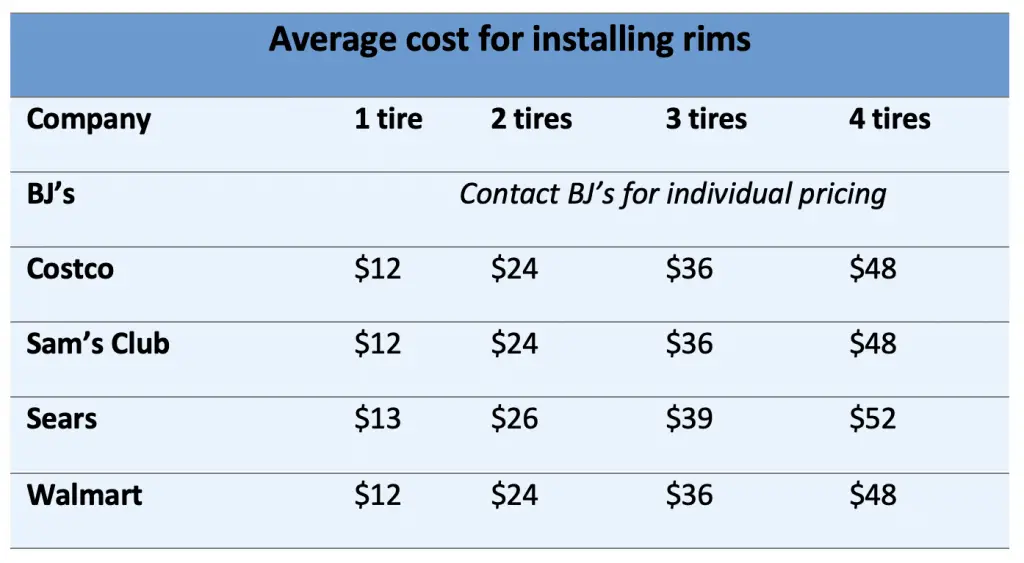 How much does it cost to install new rims?
Mounting a tire on a rim can be a bit pricey and depends on how large the rim and tires are. Larger rims and tires carry a more expensive price tag because they are heavy and take more effort to mount.
On the average rim, installation can cost between $10 and 15 dollars per tire so in total can cost between $40 and $60. Depending on the garage you use and the type of rims you want, these prices can double or even triple in price. Also, SUV's and light trucks cost more for rim installation and general installation.
Cost to install new tires and old tires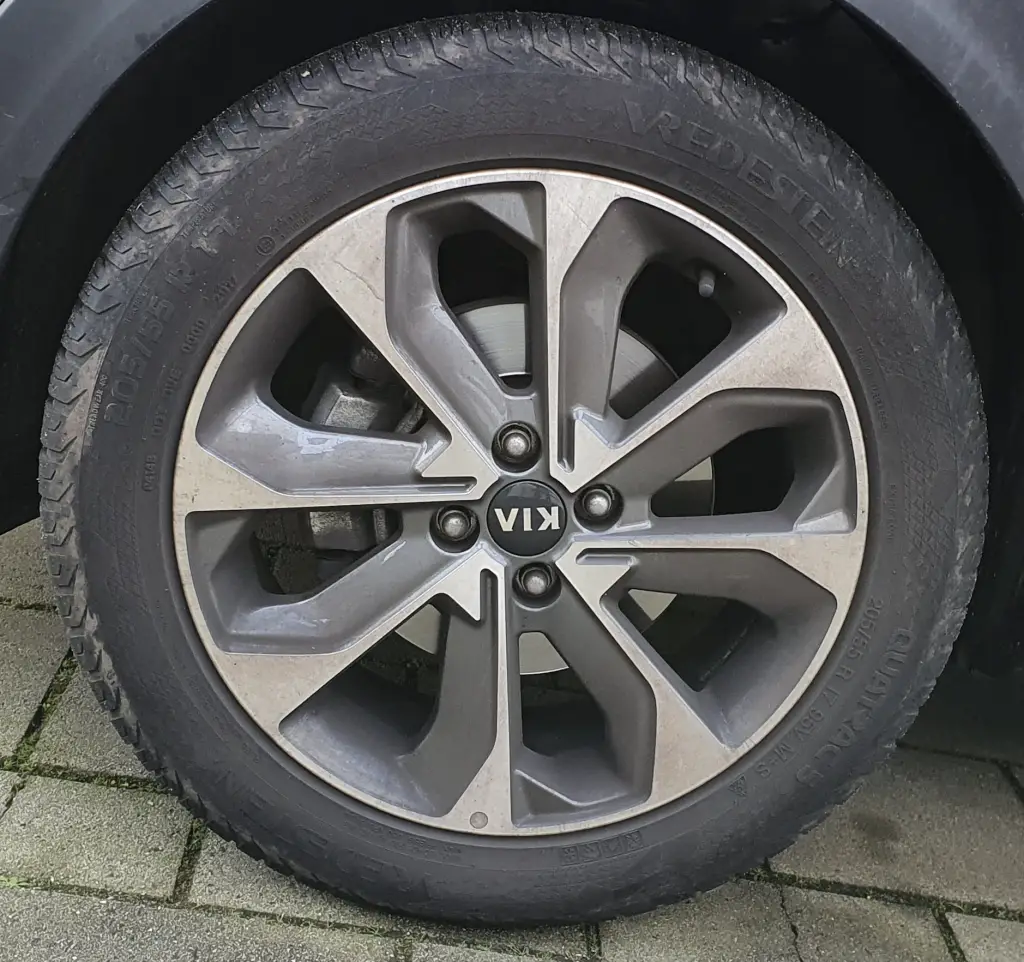 The standard installation fees for installing tires are generally similar across the board meaning it should be costing you the same to install new tires or old tires. However there are a few exceptions including Walmart, where the installation of a tire will depend on your vehicle's make, model, year, and quality of the tire.
How much does it cost to mount winter tires?
Winter tires cost more to mount than summer tires but on average up to 16" tires cost $60 per set of four, 17" tires cost $70 per set of four, 18" tires cost $80 per set of four, and 19" tires cost $90 per set of four.
These prices vary from company to company so before you mount your tire on a rim, check with your service provider and compare costs.
Costs related to removing tires
Tire removal pricing can be a bit tricky depending on how you decide to dispose of your old tires. Tire removal can be free if you decide to do it yourself. Alternatively, companies and garages offer this service but at a fee. Disposal services are not free because getting rid of tires can be a process seeing as they are considered hazardous waste and have to be disposed of in a certain manner.
On average, companies and garages offer tire disposal services at $4 to 6 dollars per tire in total between $16 and $24 per car.
Costs to remove tires from rims
Removing tires from the rim for purposes of media blasting can cost $20-25 dollars. This price can go up if the rims are specialized or the rim requires extra care in the removal process. If you are planning on having new tires placed on the rims once they have been painted, polished and media blasted then the price depends on your service providers. Before you decide, call different garages to compare prices.
Knowing where the most affordable places to go for all your tire needs can save you time and money. Always make sure to test drive your new tires after mounting and balancing to make sure your service provider did a great job.
FAQ's
Where is the cheapest place to get my tires fitted?
The cheapest place to get your tires fitted is BJ's because unlike Uncle Sam's and Costco, you do not need a membership to access their services.
How much does it cost to mount and balance my tires?
It costs between $15 to $45 per tire to mount and balance tires. This can be cheaper or more expensive depending on the service provider you use.
Can I mount and balance my tires myself?
Yes it is possible mount and balance your own tires. However you can run the risk of damaging your new tires and rims which in turn, can incur extra costs. Going to a professional is always the best option because they have the best equipment for the job.
Can I dispose of old tires myself?
Yes it is possible to remove and dispose of your old tires. Look online for recycling plants that also recycle tires.
How much does it cost to buy tires?
Buying the tires can be an expensive affair. On average inexpensive tires will be between $50 and $150 each. Moderately priced tires will be between $100 and $300 each. High performance and off-road tires will cost between $300 and $1000 each.