Smartphone technologies are constantly advancing, and so are the products that come with them. For example, Bluetooth selfie sticks can be incredibly convenient, but it is not unusual for users to experience difficulties utilizing the devices. 
This article helps break down the cause of why won't my selfie stick work with my android and gives you some helpful tips on how you can troubleshoot it!
Why won't my selfie stick work? 
There are several reasons why this might happen. Here are some of the most common reasons:
Faulty Bluetooth configuration
Problem with camera setting
Problem with the button
Phone related issues
Easy Ways To Fix Bluetooth Selfie Stick Not Working 
The reasons for this are now clear, and you can move on to how you can make a selfie stick work on Android. Here are some tips for how to do it effectively:
1. Check Bluetooth Configurations
To fix a Bluetooth Selfie stick that isn't working on your phone, you first must navigate your phone's Bluetooth sharing configurations. 
It is possible that the accessory is not correctly connected to the mobile phone. Therefore, ensure that the connection is protected and that Bluetooth sharing is enabled on the mobile device. 
2. Fix Camera Settings
When you push the button on the stick, the phone reacts, so the issue lies with the camera settings rather than the phone itself. However, most consumers have reported that the volume slider on their mobile phone becomes functional after activating the selfie stick's button.
If the volume slider begins to move similarly to this one, you should adjust the activation key in the camera's settings. This problem should be resolved when the action key is assigned to the volume buttons. Hence, the selfie stick will take a picture when you click the button.
3. Check Button Integrity
A common issue with inexpensive Bluetooth selfie sticks is that their buttons do not work properly. Unless you are certain that the action button is set correctly and that the camera configurations are accurate, there is a good chance that the button in question is faulty.
To be sure, you must exit the camera app first and then tap the button. You will need a new one if nothing happens despite the Bluetooth being effectively connected.
4. Reconnect Stick
Reattaching the stick to the mobile device should resolve any remaining issues when minor bugs can lead to major problems. Next, you need to disable Bluetooth on your phone and force it to restart. Once the connection has been re-established, you can reshoot images.
5. Use Another Phone
If the problem remains unresolved, it may be necessary to try linking a different phone to the stick. The problem lies with the settings on the older device if the selfie stick begins to function correctly with the new phone. If the stick does not respond, you will need to replace it.
Unable to use selfie stick with Android phone
The camera settings are the first to look if your phone's selfie stick is not working properly. Check these things to get started:
Check if the "Volume Key Function" setting can be accessed.
The "Volume Key Function" should be set to "Take Pictures," "Capture," or something similar (depending on the phone model's menu).
When your camera app's settings do not include a "Volume Key Function" option, your phone cannot be used with a selfie stick. 
Fortunately, alternative camera apps allow you to use selfie sticks without issues. One of these apps is Camera 360. Ensure that the "Volume Key Function" setting on the Camera 360 is set correctly before taking a picture.
Selfie stick button not working iPhone
Installing the latest iOS version may not allow the stick to recognize the device.
The stick should be removed from the Bluetooth list if it appears on your phone. Next, disable Bluetooth and turn on airplane mode on your phone. After that, the stick needs to be set up for discovery and pairing.
You should be able to pair it with your device simply by turning on Bluetooth. You will probably need to reset the phone if this doesn't happen. Go to Settings>General>Reset, and finally, Reset Network Settings. Give it another try after that.
Selfie stick connected but not working
It may stop working at the worst possible time if you don't use a reputable brand or manufacturer for your selfie stick. One of the reasons why it sometimes doesn't work is a poor Bluetooth connection.
In addition, the battery of the device may be dead. Some configuration settings can be to blame for this issue, such as errors. Consequently, you must purchase a high-quality selfie stick for your Android device from a reputable manufacturer.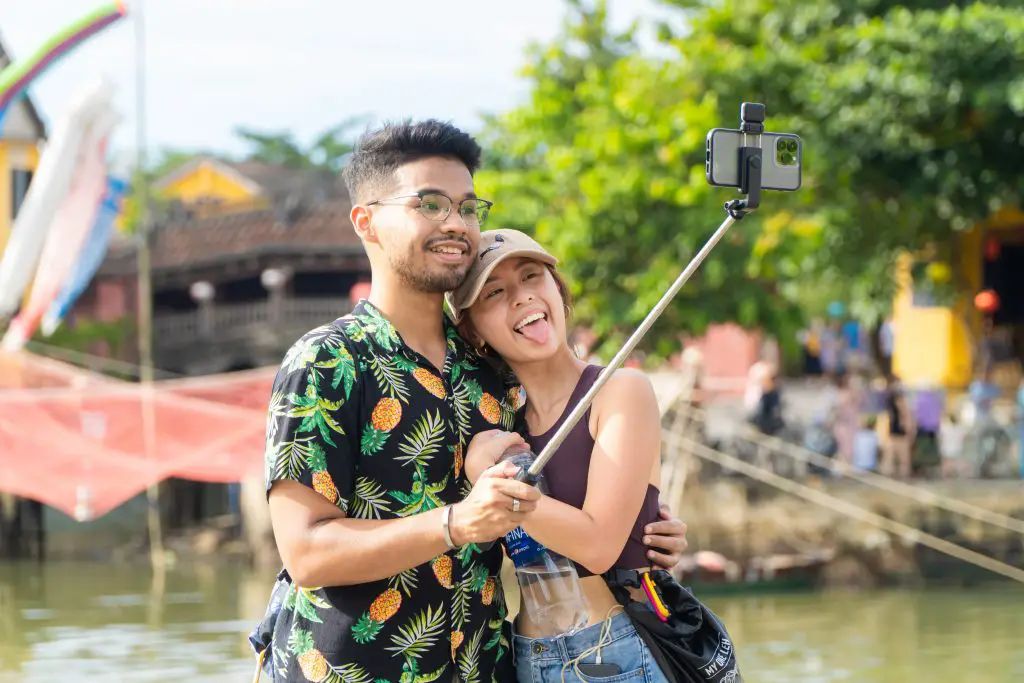 Selfie stick not connecting to Bluetooth
Try resetting the selfie stick first, and then give it another shot. Then, try using the selfie stick with a different phone to see if the problem is with the stick.
Why Does My Selfie Stick's Shutter Button Zoom My Camera?
It occurs when mobile service providers upgrade the versions of Android they deploy, causing the operating system to cease to function. Unfortunately, this feature is often missing or changed in updates by providers. As a result, your selfie stick's shutter button zooms your camera.
Conclusion
Now you know why your selfie stick will not work with your Android. You may have technical issues with your phone, the stick, or the settings. To troubleshoot, ensure all the hardware and software are working correctly. Then, follow the steps outlined above to carry out the process. Thanks for reading!
Frequently Asked Questions
How do you get a selfie stick to work on Android?
1. Pair your new selfie stick with Bluetooth. You can find your selfie stick in the Bluetooth menu of your phone/camera. You can pair your phone/camera when you see the name of your selfie stick.
2. If pairing fails, turn off each device for 5 minutes. Repair the system by rebooting
3. Connect the selfie stick wire to your device. While Bluetooth cords will not improve image quality, they prevent wireless connectivity issues.
4. Plug the cord into the headphone jack on your phone.
5. Attach your phone to the selfie stick and press the shutter button.
6. Your phone should be securely gripped between the top and bottom of the selfie stick. To take a selfie, press the selfie stick's shutter button.
How do I connect my Bluetooth selfie stick to my android?
1. Charge your selfie stick with a monopod
2. Hook up the phone
3. Link the phone up
4. Activate the stick
5. Put the Bluetooth on.
Do all selfie sticks fit all phones?
Almost all phones are compatible with Bluetooth selfie sticks 

How do you use a selfie stick with a Samsung Galaxy?
Selfie sticks must be turned on before they can be plugged into Samsung phones' headphone jacks. Upon connecting the selfie stick to the phone, it will automatically pair. Next, turn on the camera while holding the selfie stick away from your face. With a Samsung phone, you can easily use a selfie stick.

Does a selfie stick have a battery?
Yes, selfie sticks need batteries to work.