What you find on this page:
Amana stoves are some of the market's most common and affordable options. With a wide range of stoves that vary in burner types and appearance, they're an excellent choice for almost everyone and all kinds of homes. 
If you love your Amana stove but are running into some issues, there's no need to panic. Many people run into problems with this appliance from time to time. 
Fortunately, troubleshooting your Amana stove isn't too challenging. Most of the fixes to the issues are easy to do, and you won't need to hire a professional or exchange your stove. But before you can fix the problem, you need to know what might be causing the issue you're experiencing. 
Amana Stove Problems
As great as the Amana stove is, it's not without its faults. While it works well the majority of the time, there are some common problems that owners face. Here are the main issues people have when trying to use their Amana stove and what you can do about it. 
The Stove Is Not Work
The main issue most Amana stove owners face is their stoves not working. There's nothing worse than getting ready to cook a hot and delicious meal only to be unable to use your stove. The reason your stove isn't working varies. The most common reasons why your Amana stove isn't working are: 
The power cord is not plugged in correctly 
The fuse blew and needed to be flipped
The breaker needs to be replaced 
You'll first want to get behind your stove and ensure it's plugged into the outlet correctly. It needs a grounded outlet that can provide the necessary volts to power the stove. You can find your stove's many volts in the manual or ask a professional to help. 
Another thing you can do is to make sure the fuse hasn't blown. You'll find your breaker box in or outside your home and find the one the stove is on. If you see that it's turned off, turn it back on and see if that solves your problem.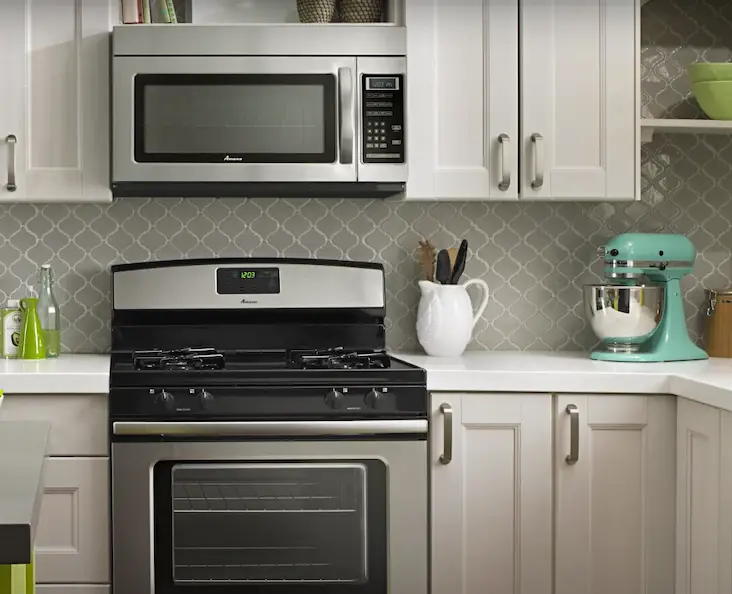 The Stove Turn On and Off
Another frustrating yet common issue with Amana stoves is that they'll turn on and off randomly. The stove turning off and on can be frustrating when you're cooking and unsafe when you're not. If you're wondering why your stove is suddenly shutting off and sometimes turning back on, here are the main reasons: 
The stove is overheating
It has an automatic shut-off feature
The electrical wiring is faulty
There's poor ventilation around the appliance 
Most newer Amana stoves are equipped with a feature to automatically turn off if they're overheating or when they've been on for a prolonged period of time. The automatic shut-off feature is designed to prevent fires, but sometimes the element is faulty and will shut off when you're in the middle of preparing a meal. 
Other reasons your Amana stove is turning on and off could be faulty electrical wiring or you don't have enough ventilation around the stove. If there's an issue with the wiring, you'll need to hire a professional electrician to assess, and you might need an Amana stove burner replacement. 
Now, if you don't have adequate ventilation around your stove, it can cause the automatic shut-off feature to kick in. The lack of ventilation can convince the stove that it's overheating and shut off prematurely. Ensure you have good ventilation around the stove, which should solve that problem. 
One way to ensure enough ventilation behind your stove is to leave a small gap between the stove and the wall. You'll want to look where all the air vents are on your stove and ensure that they're never blocked. Doing this is also helpful in preventing accidental house fires. 
Stove Clicking
The stove clicking problem only affects those with a gas Amana stove. Most people expect a slight clicking noise as they turn the knobs on a gas stove, but when the clicking persists once the stove is on or when the knobs are turned off, it's very annoying. 
Many Amana stove owners experience a clicking noise when they're going about their regular days. It can be irritating and a little nerve-wracking to think that your gas stove will turn on without your help. It's a fire hazard and not one you'll want to leave without a resolution. 
Nine times out of ten, if you're hearing this clicking noise, there's a simple solution. Typically the clicking comes from moisture being on the knobs. Whether it's a leftover cleaning product or something spilled, the moisture causes the clicking sound. You'll want to let the moisture completely dry or try to dry it yourself and see if that solves the problem. 
The Gas Burners Don't Turn On
Unlike with Amana 4 burner electric stoves, when the Amana stove burners won't light, it usually doesn't have anything to do with the power cord or breaker. The spark electrode is likely worn out or defective with a gas stove that won't turn on. 
When a defective spark electrode, it might not ignite the spark you need to get the gas going. Sometimes it's working, but it's too weak to spark the gas to start. A weak spark electrode will still produce the clicking noise you're accustomed to with a gas stove, just without the gas start. 
Whether the spark electrode is weakened or completely defective, you'll want to replace it as soon as possible so you can use your gas Amana stove. 
The Bake Element Is Damaged
The bake element is the part responsible for creating the necessary heat to bake and broil in your oven. Sometimes your stove burners can be working, but the range is having some issues. When your oven isn't working, your bake element may be damaged. 
You'll be able to tell if your bake element is damaged if you preheat the oven and it never reaches the correct temperature or if it takes much longer than average. Other times, the oven won't heat up at all. 
The bake element is one of the most manageable parts to replace in an Amana stove. They're relatively affordable compared to replacing the entire stove and easy to remove and install. You can always hire a professional if you are unsure how to replace the bake element. 
The good news is that even if your bake element is broken, you should still be able to use your stove burners as usual, as long as you're not having an issue with those too.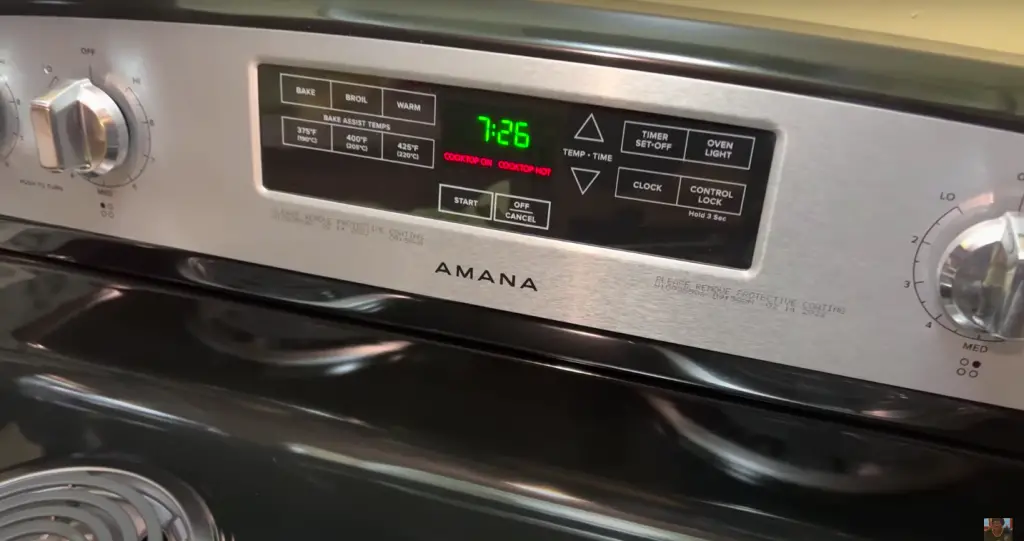 The Breaker Is Default
Sometimes if your stove and oven aren't working correctly, your breaker could have defaulted. This can be an easy fix. All you need to do is check your breaker box and look for the one with your stove. 
From here, you can quickly flip the switch back to working and try using your oven. If you do this and it still doesn't work, you might have a more severe issue on your hands. You might need to replace the fuse completely.
When this happens, the best thing you can do is hire an electrician. This way, everything is done correctly, and you don't cause further damage.  
Conclusion
Amana stoves are a great appliance to have in your kitchen, but sometimes they have their issues. Troubleshooting your Amana stove isn't too difficult for the most part. You or a professional can fix most problems by checking the power cord and breaker, but others, like an electrical issue, might require the assistance of a professional. Remember you can contact our team if you need further help for your case, we'll be happy to assist you.
Either way, there's a solution to every Amana stove problem. Whether you need to replace the bake element, fuse box, or something else, it can all be solved. Once you figure out where the problem lies, you'll be back to cooking your favorite meals in no time.
FAQs
Do you still have questions about your Amana stove? There are hundreds of questions floating around the internet about these appliances. Check out what other Amana stove owners are asking and their correct answers.
How to reset the Amana stove?
Resetting an Amana stove is a great way to solve many of the issues associated with the appliance. To reset the stove, you'll power off the stove via the circuit breakers for one minute. After, you'll turn the power back on with the circuit breaker. 

You'll want to start a baking cycle in the oven and keep an eye on it for one minute. If no Amana stove error codes appear within that time frame, the reset is complete, and you shouldn't have more problems. 
Why is the Amana stove not heating?
When your Amana stove isn't heating, there could be an issue with the electrical current. You'll want to check that the power cord is plugged in properly. You can reset the breaker in an attempt to get the stove burners to heat. In some cases, you'll need to replace the stove's igniter. 
What does F1 mean on the Amana stove?
There are several fault codes for an Amana stove. If you see the F1 fault code, there's a control board failure. When you see this code, there's a high possibility that your stove has a problem with the control board. You can try looking at the configuration on the control board, but if that doesn't work, you'll need to replace the control board. More often than not, you'll need to replace the entire control board. 
Why are Amana stove burners not turning on?
If you go to turn on your stove burners and none of them are working, there are a few reasons why this could be. You or someone else might not have plugged in the power cord correctly, or into a grounded operational outlet, the breaker and fuse could have blown, or the stove could be defective. 

You'll want to double-check the power cord and breaker before trying to use the stove. If you do this and are still experiencing issues, you might need to hire an electrician or other professional to take a look at the stove.
Why are Amana stove Gas burners slow?
Usually, if your gas burners are burning slowly, there's a good chance it's because they are dirty. To resolve this issue, you'll want to make sure the stove is turned off and cool before attempting to clean the burners. 

You can clean the Amana stove top burners with a proper stove top cleaner. Follow the instructions on the back of the product before attempting to use the stove again.
More related content:
Amana Self-Cleaning Oven Troubleshooting: All You Need To Know
Amana Upright Freezer Problems: Fix It Here!
Amana Top Load Washer Troubleshooting: A Guide of What To Do
Amana Washing Machine Troubleshooting: Find here what to do